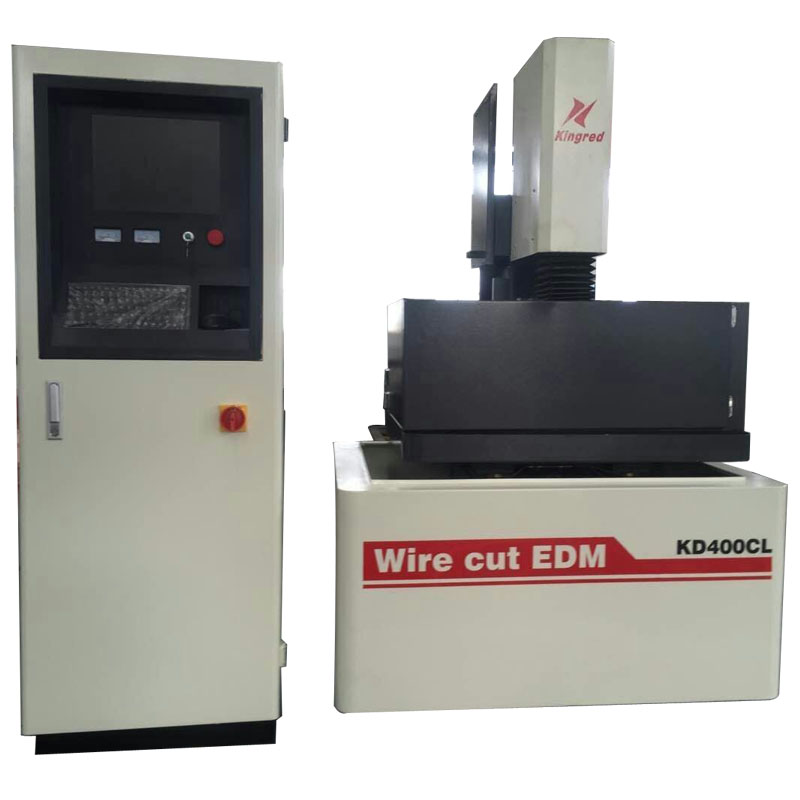 Wire EDM KD400CL
CNC wire cutting EDM KD400CL is the one with X&Y axes servo motor controller. Comparing to stepper motor control, servo motor has feedback from servo motor and compensation, it could increase accuracy than stepper motor in long distance cutting, especially for jobs with numbers of holes in one pieces, for such kind CNC wire cutting works, locating accuracy is very important, it is not just accuracy of one single hole, also accuracy between each two holes. So we recommend KD400CL for electrical molds making works.
KD400CL has X,Y axes travel 320×400mm with X&Y axes servo control, it could cut all kind of conductive material such as steel, alloy, copper, titanium alloy and etc. Kingred's CL series wire EDMs are equipped with hand control box to control movement of X,Y. So there is no hand wheel. KD400CL has coordinate on the screen of control software to check absolute and relative position of X&Y axes.
C" structure column design, machine head is installed in vertical direction, different from old "F" structure wire cut EDM, wire frame is in horizontal direction, there will be problem of swing of wire frame during wire feeding, on the contrary, for "C" structure, wire frame is in vertical direction, no problem of wire swing during wire feeding.