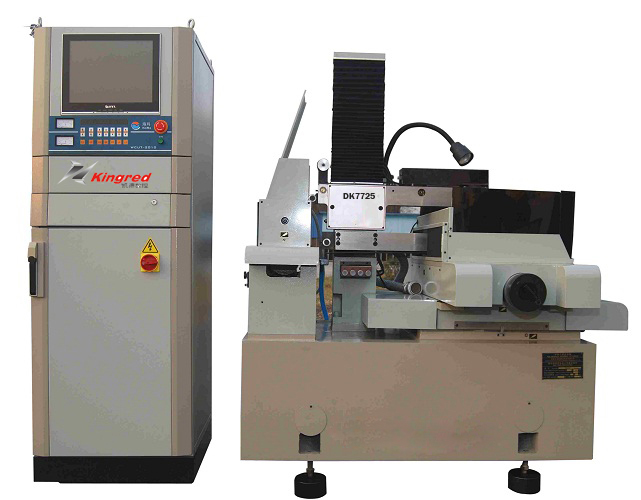 Wire EDM DK7725
The economical type wire cut EDM machine DK7725 is unique and original from China; it is widely used in mold, accurate components industry. DK7725 uses molybdenum wire as electrode wire. This type wire cut EDM is different from brass wire cut EDM which is widely known in the world. Molybdenum wire type wire cut EDM is much cheaper than brass wire cut EDM, and can replace many jobs of latter one. Kingred's economical type wire cut EDM machine is featured:
1) Adopt KDXP(AutoCUT) CAD/CAM software, Windows XP as operating system, easy to use and maintain;
2) use Resin sand casting technology make casting of DK77 series, twice High temperature tempering treatment to remove inner stress to reduce possibility of deformation;
3) digitalized electrical circuits that controlled by inverter, to realize smooth motion of wire feeding;
4) large thickness and high efficiency high frequency power source;
5) adjustable feed speed of wire drum, low speed for loading wire and high speed for machining. DK7725 has table travel 250×320mm, it is suitable to cut all kinds of conductive material, if you are looking for a small and cheap wire cut EDM, DK7725 would be your perfect choice.