Structure characteristics of CNC high speed wire cut EDM(2)
CNC high speed feed wire cut EDM is consisted by main machine and CNC controller. Figure 1-1 is the photo of Suzhou Kingred's KD series CNC high speed feed wire cut EDM machine. Hereby, we take Kingred's wire cut EDM as a sample to introduce structure of CNC high speed feed wire cut EDM machine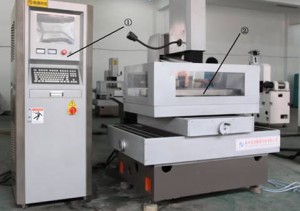 Figure 1-1; ①-main machine; ②- CNC controller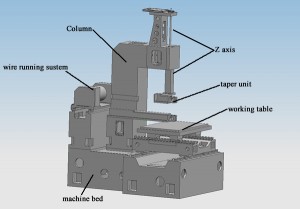 CNC controller
CNC controller is composed of CNC system and impulse power system.
① CNC system includes control system and auto programming system. Kingred's wire cut EDM Controller is equipped with brand PC, which has wire cut EDM machining control and program software, it can design machining track, to realize automatic control of whole machining process. , see figure 1-10,

Figure 1-10
② Impulse power system, the impulse power source of CNC high speed feed wire cut EDM machine is also called high frequency power, it is the key part of machine, impulse power system convert AC electrical current to high frequency impulse power, to provide a series of rectangular pulse with different frequency width. Impulse power system is very important to wire cut EDM machine, it is the main reason to affect machining performance and quality of machine. It is relative to machining speed and surface finish directly. Impulse power source of CNC high speed feed wire cut EDM machine should be: (1) peak current should be proper; (2) width of high frequency is adjustable; (3) frequency of impulse should be as high as possible; (4) parameters of impulse is adjustable in a large range.  See Figure 1-11, the controller of Kingred's CNC wire cut EDM machine.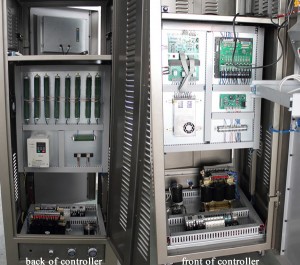 Figure 1-11